By Author: Arvin Afzali | July 26, 2017
Loss of Canadian Permanent Resident Status
Permanent Residence is technically not "permanent" in the sense that a person may lose their status if they don't comply to some requirements. Section 2 (1) of the Immigration and Refugee Protection Act (Act) defines a permanent resident as "a person who has acquired permanent resident status and has not subsequently lost that status under section 46."
Section 46 if the Immigration and Refugee Protection Act defines five ways in which a person may lose his or her permanent resident status:
If they become a Citizen of Canada,
if they fail to comply with the residency obligation under section 28 of the Act,
if a removal order made against the person has come into force due to inadmissibility issues,
if a final determination is made that they are not refugees or entitled to protection (person in need of protection, Pre Removal Risk Assessment); or
They Voluntarily renounce their status (Permanent Resident Status)
We will briefly review each of these categories.
1. When you become a Citizen of Canada
Once you become a Canadian Citizen you automatically loose your permanent residence Status. As a Citizen not only do you benefit from the same rights that you did as a Permanent Resident but you also obtain additional rights as well.
2. Failure to meet the Residency Obligations
You can loose your permanent resident status if you fail to fulfill your residency obligations. Although, one is not required to remain in Canada indefinitely section 28 of the Immigration and Refugee Protection Act does require that a permanent resident spend 730 days out of 5 years in Canada. Therefore, a permanent resident does have to satisfy an officer when applying to renew their Permanent Resident Card or at a Port of Entry that they meet the residency obligations. To demonstrate compliance with this requirement one can submit documentation such as proof of employment, proof of enrollment at a school, bank statements, pictures and statements from friends and family as well as other documents.
There are some exemptions that allow a permanent resident who failed to remain in Canada for 730 days out of 5 years to get days spent outside of Canada counted as days spent in Canada:
If you were outside of Canada with a Canadian Citizen who is your spouse or common-law partner.
If you were employed outside of Canada on full-time basis for a Canadian Company or Government.
If you were outside of Canada with a Canadian Citizen who is your spouse or common-law partner who is employed full-time working for a Canadian Company or the Government of Canada.
3. Inadmissibility and Removal Orders
A Permanent Resident can be determined to be inadmissible in Canada on grounds of Security Reasons, human or international rights violations, Serious Criminality, Organized Criminality and Misrepresentation, Failure to Comply with the Act such as meeting the residency obligations (see section 2 above).
As a result of being determined inadmissible in Canada one can loose their Permanent Resident Status.
The process usually involves an allegation of inadmissibility to be reviewed by an officer who then decides whether or not to refer the matter to the Immigration Division of the Immigration and Refugee Board where the matter will be decided at a hearing which might or might not have a right of Appeal seeing that some grounds of inadmissibility do not have a right of Appeal such as Serious Criminality where the term of imprisonment is more than 6 months.
4. Final Determination that a Person is not a Refugee or a Person in need of Protection
If a person's refugee claim involved Fraud or Misrepresentation they can loose their permanent resident Status. The Minister upon discovering that there has been fraud or Misrepresentation makes an application to vacate to the Refugee Protection Board pursuant to section 109 of the Immigration and Refugee Protection Act. If the application is allowed and the Board vacates the original decision for refugee protection this will result in the person loosing their permanent resident status in Canada.
5. Renouncing your Permanent Resident Status
A person may voluntarily renounce their Status as long as they have Status (Citizenship or PR) in another country. For more information and submitting this type of application click here.
We have seen five ways for which a person may loose their status. For more information regarding Permanent Residence status contact the Chaudhary Law Office an Immigration Law Office in Toronto, Canada.
By Author: Admin | July 6, 2017
Immigration Consultants and Ghosts in Canada
Photo Credit: https://cacm.acm.org/magazines/2014/7/176209-licensing-professional-software-engineers/abstract
Unlicensed consultants – or "ghost" consultants – cause problems to the immigration system because they tend to encourage their clients to lie on their applications. They offer to fill out forms (without talking to the client), create required documents (such as school papers), create bogus offers of employment, or fabricate marriages. Sometimes applicants are "in" on the fraud, and other times they have no idea what is going on (as far as they're concerned, they're just applying for a visa and this is a legitimate local businessperson). The difficulty is trying to protect the latter group from going to a ghost consultant in the first place, and punish the former group for damaging the integrity of the system.
The problem stubbornly persists. Part of this problem is a lack of investigative resources on the part of the CBSA (Canada Border Services Agency – the agency tasked with immigration enforcement). In a report to Parliament, Jennifer Lutfallah from the CBSA added that awareness campaigns about unregulated consultants are, after "criminal investigations … the only mechanism we have for enforcement."  Thus, given the expense of such criminal investigations, Canada Border Services Agency only pursues cases where more than one case has been improperly processed by a Ghost Consultant.
The effectiveness of Awareness campaigns are perhaps analogous to the Public Service Announcements of the 1970s, which unintentionally encourage opposite behaviour. The CBSA website is vague on the phenomenon of ghosts who counsel persons to lie on an application.  In the immigration context, there is an utter lack of acknowledgement of the problem; nowhere on the CIC (or now, IRCC) website is there a reference to Ghost Consultants.  I've also written before that the CIC website actively encourages persons without a lawyer or consulting license to provide immigration services.
Further, IRCC often fails to differentiate between the services offered by an authorized immigration lawyer and criminals. On IRCC's website, IRCC advises individuals on their website that "[i]f [they] follow the instructions in the application guide, [they] can complete the application form and submit it on [their] own." This may be true for some applications, where the applicant obviously and unambiguously meets the criteria of a popular immigration program. In other cases, where the applicant's eligibility is unclear, then the instructions will only provide enough information to be refused. And some applications, such as criminal rehabilitation,  humanitarian and compassionate (H&C) applications, or self-employed applications offer little to no instructions beyond the minimum required to be considered complete, and no information on what the actual criteria for acceptance is. The difference is that an immigration lawyer will help you present the truth of your case such that ambiguities can be adequately explained, while a Ghost Consultant will ignore it entirely and create a fictional account.
Ghost consultants rely on their victim's combination of desire to come to Canada and ignorance of the process. Some visa seekers victimized by Ghost Consultants are retained by individuals who are too language deficient (or blamelessly ignorant) to invest in a regulated immigration consultant or a licensed Canadian Immigration Lawyer.  Others are victimized by private schools for international students; such schools have a financial incentive to market themselves as part of a pathway to permanent residency, sometimes wrongly.
One recommendation from the Parliamentary Committee includes giving an option for a candidate whose application was discovered to have been processed by a Ghost Consultant, an opportunity to retain a licensed lawyer or other representative.  Such a recommendation may protect applicants who were unaware of the distinction between a Ghost Consultant and licensed consultant.
I was the lead counsel on a matter where individuals used clerical services and were wrongfully determined to have used a ghost consultant.  In that case, significant resources were poured into an investigation that meant to punish immigration applicants rather than the individuals who were allegedly acting as Ghost Consultants.  After the expense of a successful Federal Court case, the candidates were successful; their cases shall now be reassessed by a different visa officer.
If seeking advice about applying for a visa, feel free to contact Chaudhary Law Office; we're licensed Canadian lawyers by the Law Society of Upper Canada.
By Author: Admin | June 28, 2017
       What are Removal Orders and What You Need to Know
Photo Credit: http://www.cbc.ca/news/politics/deportations-jamaica-honduros-1.3490185
    The Canada Border Services Agency (CBSA) and Immigration, Refugees and Citizenship Canada (IRCC) are vested with the authority to issue various Removal Orders. There are three distinct types of Removal Orders which may be issued by the (CBSA) or (IRCC). The relevant Removal Orders include; an Exclusion Order, Departure Order, and Deportation Order. It is important to understand what each order entails, including the associated rights and responsibilities of an individual who is subject to each particular Removal Order.
      An Exclusion Order typically stipulates that the relevant individual may not return to Canada for a full year. However, if the Exclusion Order is issued due to misrepresentation, the individual may not return to Canada for a period of five years. In addition, it is the responsibility of the individual who has been issued an Exclusion Order to reimburse the (CBSA) for any costs that are associated with removal from Canada. If an individual wishes to return to Canada within the relevant period of exclusion, that individual must obtain an Authorization to Return to Canada (ARC). For more information on the process of applying for an Authorization for Return to Canada please see this relevant ARC link.
    A Departure Order mandates that an individual must leave Canada. A person who is issued a Departure Order has 30 days to leave Canada in order to be eligible to return to Canada at a future date. It is important for an individual who is subject to a Departure Order to confirm their departure from Canada with the Canada Border Services Agency (CBSA) at the relevant port of exit. The failure to confirm the necessary departure with the (CBSA), or the failure to leave Canada within 30 days of a Departure Order taking effect will result in the issuance of a Deportation Order. In addition, an Authorization to Return to Canada (ARC) will also be required in order to return to Canada at a later date.
     A Deportation Order permanently prohibits an individual from returning to Canada. An individual who is subject to this order may not return to Canada without obtaining an Authorization for Return to Canada (ARC). An individual who wishes to apply for an (ARC) must also repay the CBSA any costs associated with their removal from Canada.
     It is possible to appeal a Removal Order with the Immigration and Refugee Board of Canada (IRB) in certain instances. However, once a Removal Order takes effect, it is important to leave Canada immediately. The failure to leave Canada in these circumstances may result in the issuance of a warrant for arrest by the Canada Border Services Agency (CBSA).
    A Refugee Claimant will typically receive a Conditional Removal Order. The Conditional Removal Order will become a valid Removal Order if the Refugee Claim is not accepted.
    For more information regarding Removal Orders please visit this link to the Canada Border Services Agency (CBSA) website.
If you have been issued a Removal Order and require legal assistance contact      Chaudhary Law Office.  
By Author: Admin | June 7, 2017
Canadian Sponsorship of Adopted Children and Other Relatives for Permanent Residence: A Brief Overview of the Low Income Cut-Off (LICO)
source: https://afth.org/wp-content/uploads/2015/09/SPRING-SUMMER-ISTOCK-Bi-racial-family.jpg
      The sponsorship of an adopted child or other relative can be an exciting and joyful prospect. There are many important factors to consider if you are hoping to sponsor an adopted child or other relative in Canada. The sponsorship of an adopted child or other relative is a significant commitment which entails a number of important obligations that are associated with this undertaking. A sponsor is compelled to provide necessary financial support and basic requirements for the sponsored adopted child or other relative. As the financial obligation to provide support for sponsored adopted children and other relatives is significant and binding, the government of Canada requires a sponsor to meet relevant minimum income requirements.
     The federal government of Canada issued a Federal Income Table which dictates the relevant criteria associated with the Low Income Cut-Off (LICO) for sponsors of adopted children and other relatives in provinces other than Quebec. An applicant, who is hoping to act as a sponsor must provide proof of their available income in the form of a Canada Revenue Agency (CRA) Notice of Assessment.
    The minimum required income for an applicant sponsor under the Low Income Cut-Off (LICO) criteria is $24,600 for a one-person household (consisting of the sponsor alone). The minimum required income increases relative to the size of the sponsor's family unit. A relevant chart pertaining to the Low Income Cut-Off (LICO) from the Sponsor's Guide for Sponsorship of Adopted Children and other relatives has been included below.
Low Income Cut-Off (LICO)  – 2017
Size of Family Unit     Minimum necessary income
1 person (the sponsor) $24,600
2 persons         $30,625
3 persons         $37,650
4 persons         $45,712
5 persons         $51,846
6 persons         $58,473
7 persons         $65,101
More than 7 persons, for each additional person, add $6,628.
    For more information it may be helpful to consult the Sponsor's Guide (IMM 5196) for Sponsorship of adopted children and other relatives.
Sponsoring an adopted child or other relative can be a complex process. If you require assistance in creating an application for the sponsorship of an adopted child or other relative contact  Chaudhary Law Office.
By Author: Admin | May 29, 2017
Express Entry Draw of May 26, 2017 – FSTC lowest to Date
The Express Entry draw of May 26, 2017 was, for the Federal Skilled Trades Category (FSTC) and not the Canada Experience Class or the Federal Skilled Worker Class, the lowest ever at 199 points. The FSTC category is distinguished by the lower score required in English and / or French. However, the available occupations are limited to technical ones, and requires a job offer in Canada, or a licence to ply the intended trade issued by the appropriate provincial authority.
The draw of 2017-05-26 also had a second minimum threshold of 775 points confined to those Express Entry profiles that were eligible for a Provincial Nominee Program. Most provincial nominee programs require work experience in the province, and evidence that the individual would reside in the province if granted permanent resident status.
As a whole, this Express Entry draw looks optimistically low (in terms of minimum requirements), but in fact, is a draw that is confined to Express Entry profiles with very distinguishing features than those that are usualy encountered under the Express Entry System, as described above.
On the positive side, the low score given for the FSTC is an acknowledgement that the level of English or French for persons in those hands-on or technical occupations need not be particularly high, given the specialized skills possessed by those FSTC .
The need for immigrants with diverse skills is consistent with Canada's burgeoning services sector which complements Canada's diverse economic base. Similarly, the accommodation of immigrants who are destined to the less populous provinces of Canada would help allay the problems associated with population growth being confined to Canada's large cities, such as environmental sustainability.
A related issue is whether those immigrants who were granted status in one of the smaller provinces will remain in said smaller province. The populations of such provinces being low (with concomitantly less economic opportunity) may mean that the provincial nominee programs intent of spreading immigration to smaller provinces may be more difficult if new immigrants can't economically support themselves, or (as is the intent of provincial business programs,) create a job opportunity for themselves. This concern is particularly amplified given mobility rights accorded to permanent residents under Canada's Charter of Rights and Freedoms.
If you need help with creating an Express Entry profile or have questions regarding the Comprehensive Ranking System, contact the Chaudhary Law Office.
By Author: Admin | May 24, 2017
Hearings at the Immigration Division – Admissibility Hearing and Detention Review
Located at 385 Rexdale Boulevard, the Immigration Division of the Immigration Refugee Board not only decides on the liberty of those detained therein, but also whether a permanent resident or foreign national should be deported from Canada.
Some hearings take longer than others.  For example, hearings relating to criminality may be relatively short (particularly where there is no dispute that a person was convicted of a crime).  On the other hand, highly contested hearing may take two or three days. . Lengthier hearings may be associated with matters such as misrepresentation of a material fact under Canada's immigration laws.
The outcome of such hearings often culminate in an oral decision.  The oral decision is dictated to the parties.  Other tribunals such as the Refugee Protection Division or Immigration Appeal Division opt to send the decision in the mail, rather than forcing the parties to listen to one's life in Canada being allowed to continue (or conversely an oral pronouncement as to why a person's life in Canada is terminated).  The assumption may be that counsel duly retained to represent a person concerned cannot be entrusted to convey a decision to her client.  Rather, the client must be hauled into the hearing in person to hear the decision.
It is a challenge when parties are summoned to return only for the purpose of listening to a live dictation of the reasons for decision, particularly where the Member recites neutral facts and reserves the pronouncement for the end of the oral recitation.   The anticipation has to be contained.  Such anticipation is amplified if the person who is the subject of the decision is not conversant with either official language.  Some clients, upon hearing the result, uttered after a long narrative don't understand, leading counsel to translate in a rudimentary way such as "You Won," or, "You Lost."
Many Members at the Immigration Division are appointed from the ranks of the Canada Border Service Agency ("CBSA").  There is an uncomfortable feeling that the culture of enforcement associated with working as a CBSA employee colours the view of individuals who are subject of an admissibility hearing.  The mandate of the CBSA officers is to pay high degree of scrutiny to those seeking entry to Canada.  Some CBSA officers are allowed to carry firearms.  The phenomenon of individuals behaving badly, (documented in shows such as "Border Security" ) reinforces a culture of enforcement.  A  culture of enforcement may be minimally described as possessing a more skeptical view of everything uttered or written by a candidate seeking a visa to Canada; a prism that emphasizes the darker characteristics of human behaviour.
The seating position in the hearing room favours the CBSA, where the CBSA representative generally sits near the exit to the courtroom.  Such a position assumes the worse case scenario: that the client, upon receiving a decision that his life in Canada is over (through the issuance of a deportation order), may react in a way that necessitates a speedy getaway for the CBSA officer away from said hearing room.
Fun fact: the desk within the hearing room where the CBSA officer sits contains a discrete button that contacts security in the event  dangerous conduct transpires within said hearing room.  I presume this includes dangerous conduct of wayward counsel as well as their clients.
By Author: Admin | May 16, 2017
The Challenge of Sponsoring Children for permanent residence in Canada (or Using Humanitarian and Compassionate arguments)  when Custody Is An Issue
Sponsorship of children under the family class requires a parental relationship.  This relationship  must be by blood, or adoption.   More details can be seen here  [1].   However, in the case of a sponsorship where there is a divorce or just a child involved, an additional requirement is needed, specifically, custody over the child.  This can be challenging as I wrote earlier.   
The situation is more difficult where a father or mother of a child immigrates to Canada before the child, the child often being in the custody of a grandparent or the other parent.  Aside from the need for custody in estranged relationships,  the phenomenon of the already immigrated parent not declaring the existence of the child when that parent obtained her permanent resident status,  may jeopardize the ability of that child from ever being sponsored under Regulation 117(9)(d) of the immigration refugee protection regulations.  
Further, the parent seeking to sponsor an undeclared child may be in jeopardy of having their own permanent  resident status removed on the  basis of  committing a material misrepresentation when they applied for their own permanent residency.  This may even affect those persons who are Canadian citizens who fail to declare a dependent child.
There are remedies such as humanitarian and compassionate submissions in an application for permanent residence to sponsor a child. Such submissions would have to address whether it is in the best interests for a child to be in Canada despite failing to be considered as a member of the family class.  
Such humanitarian and compassionate applications are not 'slam-dunks' in terms of the chances of success.  There must be credible evidence (usually from professionally-credentialed third parties). that speaks to what is in the best interests of a child.  There also should be some expression of why the current separation of the child from the parent in Canada cannot be maintained. The Canadian-based parent's circumstances are relevant.  Such circumstances include the financial circumstances of the Canadian-based parent.
It is not sufficient to show that Canada has better opportunities for children seeking to  obtain permanent status in Canada.   Similarly, the presence of family members in the country where the child resides may lead an officer to ask about whether the existing persons who care for the child are able to safeguard  the best interests of the child.
The situation where a child has had visitor status in Canada for a number of months and is with the Canadian parent due to an interim custody order is different.  If said child has been under the care of the Canadian-based parent for a long time, then more evidence could possibly be obtained such as the school marks, testimonials from teachers and neighbors, and reports from medical professionals. Such evidence would presumably, show that it is in the best interests of the child to remain in Canada.
Seeking advice on bringing a child to Canada permanently?  Need Immigration advice? Contact the Chaudhary Law Office
[1] Please note that the link which refers to the age of dependent children being under 19 shall be subject to changes which shall return the age of a dependent child to under age 22.  Those changes are slated to become effective on October 24 2017 as per  http://www.gazette.gc.ca/rp-pr/p2/2017/2017-05-03/html/sor-dors60-eng.php
By Author: Admin | May 1, 2017
Canada Border Service Agency – The Greater Toronto Enforcement Centre (GTEC)

A base of operations for the Canada Border Service Agency is The Greater Toronto Enforcement Centre (GTEC), located at 6900 Airport Road, Mississauga Ontario.  GTEC's public area is like a subway station in a large urban centre.  There are Advertisements in the form of Cable Pulse 24 emanating from two flat screen televisions.  There is an ethnically  diverse group of people, many signs directing one to wheel chair accessibility, a device that disseminates a ticket (required to see an enforcement officer), and the persons  waiting are understandably glum.    The seats are durable and uncomfortable, some having that ability to impress a waffle pattern onto your body.  There is an escalator at one part of the  public area as well (the back entrance).
Some officers wear uniforms and others do not.  You speak to an officer through glass containing a metallic circle that allows the officer to hear you despite the presence of the surrounding wall of glass, as is similar to a transit worker at a subway station's entrance.  I recall the level of formality being much lower than in the late 1990s.  At that time, I was able to view a CBSA file in the area reserved for officers, and  use the CBSA's internal photocopier.  That level of formality subsequently changed.
Like a subway station, GTEC can be a starting point for you to be taken away to a different destination.  In some cases you may be taken to be detained temporarily at 385 Rexdale Boulevard, or other institutions.   In other cases, you may be detained and then removed from Canada.
Other interactions may be relatively innocuous, such as when you are instructed to report to a CBSA officer periodically in person, once or twice a month.  Reporting also takes place at an alternative CBSA office, located at 74 Victoria Street, 10th floor.  Other meetings may be convoked to offer  a Pre Removal Risk Assessment, or to update a residential address, or to provide information regarding  passports or other government documents like birth certificates.
Cooperation with CBSA officers is essential where individuals are instructed to facilitate their removal from Canada.  The failure to demonstrate cooperation with the CBSA may lead to detention.  If there an individual is summoned to GTEC and is not conversant in one of Canada's official languages, then an interpreter should accompany the individual.
The meeting rooms are meant to accommodate two persons plus an officer and are quite small.  The sound insulation is such that persons who have meeting In adjacent rooms can sometimes hear eachother.  There is something of an overflow sections where privacy is even more sparse, where unrelated clients have discussions with officers separated by a burgundy curtain.
If you have an invitation to meet a CBSA officer at GTEC, you may wish to consult our office about that invitation and what may occur at GTEC.
By Author: Admin | April 9, 2017
Are you contemplating claiming Refugee Protection from the Canada-USA border?
Since the November 2016 election in the United States of America (USA) we have seen an increase of calls from people in the United States who wish to claim Refugee Protection also known as seeking Asylum by crossing the Canada-USA border. Although, it is possible to claim protection from within Canada, the Safe Third Country Agreement might prevent these claimants from entering the country and to be able to claim Refugee Protection.
What is the Safe third country agreement?
This Agreement is between the government of Canada and the United States and came into force in 2004, under the agreement, refugee and asylum seekers are required to claim protection in the first safe country they arrive in, unless one of the exemptions of the Agreement applies to them. This Agreement does not apply to US citizens as well as habitual residents of the US who are stateless (citizens of no country).
The Agreement applies to claimants who are coming to Canada from the US by using the land border crossing, train and airport. In the case of airports it only applies if the person seeking refugee protection in Canada has been refused refugee status in the U.S. and is in transit through Canada after being deported from the U.S.
What are the exceptions?
There are four exceptions:
You have a family member in Canada, The Family member exception
Minor's who are alone, Unaccompanied minors exception
Canadian travel document holder, Document holder exceptions
Public Interest exceptions
1. The Family Member Exception
This Exception applies if the Refugee claimant has a family member in Canada who is either a permanent resident of Canada, a Canadian Citizen of Canada, a protected person in Canada, has made a claim for refugee status in Canada that has been referred to the IRB, has had his or her removal order stayed on humanitarian and compassionate grounds, holds a valid Canadian work permit or holds a valid Canadian study permit.
A Family member is defined in the Agreement as a spouse, legal guardian, child, father or mother, sister or brother, grandfather or grandmother, grandchild, uncle or aunt, nephew or niece, common-law partner, same-sex spouse.
If you have a family member as defined by the Agreement and has one of the statuses mentioned above, the exception could apply to your case.
2. Unaccompanied Minors Exception
Children under 18 who are unaccompanied by their legal guardians including mother or father, are not married or in a common-law relationship and who do not have a legal guardian in Canada or the United States may qualify under this category.
3. Travel Document Holder Exception
A person who hold a valid Canadian visa (other than a transit visa), a valid work permit, a study permit, a travel document (for permanent residents or refugees) or other valid admission document issued by Canada, or who are not required (exempt) to get a temporary resident visa to enter Canada but require a U.S.–issued visa to enter the U.S may qualify under this category and could have a claim for refugee protection.
4. Public Interest Exception
If a person has been charged with or convicted of an offence that could subject them to the death penalty in the U.S. or in a third country. However, the person is ineligible if he or she has been found inadmissible in Canada on the grounds of security, for violating human or international rights, or for serious criminality, or if the Minister finds the person to be a danger to the public.
Conclusion
Even if a person qualifies for one of these exceptions of the Safe Third Country Agreement, refugee claimants must still meet all other eligibility criteria of Canada's immigration Law and Regulations such as inadmissibility.
For more information about Refugee Claims and the Canada-Us Safe Third country Agreement visit Citizenship and Immigration Canada's website.
If you need assistance or more information call the Chaudhary Law Office for a consultation.
Thank you to our Followers
The Chaudhary Law Office's Blog was selected by Feedspot as one of the Top 60 Immigration Blogs on the web.
​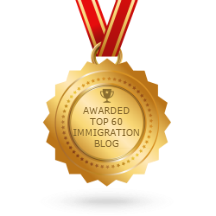 We thank Feedspot and our followers for having nominated us.
By Author: Admin | March 27, 2017
Anyone Can Be A Representative under Canada's Immigration Website
I've written about the Canadian government's somewhat sinister  view of representatives in the past .
More recently however, government websites attempt to convey information in a dispassionate manner, without favoritism or bias towards or against any group.  The official website of Canada's immigration department ("www.CIC.GC.CA" or "CIC"), takes this ecumenical view of representatives with much enthusiasm.
Representatives are typically lawyers or immigration consultants.  However, according to  CIC,  representatives may also include, " family members friends and other third parties "  One can see that from the point of view of CIC, the breadth of representatives  encompasses persons who possess no specialized expertise  or specialized training.  Further CIC asserts, you can entrust your immigration matters not only to a trusted family member or friend, but even to "other third parties"  – Other third parties is so broad a category as to potentially capture anyone.  In other words, anyone can be a representative.
According to CIC,  there are good Samaritans who will even be your representative and charge you no money: "They may give the same services as paid representatives, but they do it for free."  This calls to mind the case where an unlicensed consultant was allegedly providing free services .  In that case, the Immigration Refugee Board stated, "Either Dr. Ehikwe earns a living doing non-immigration matters and is altruistic to a fault or he is attempting to circumvent section 13.1 of the IRP Regulations."
The scope of services you may avail yourself of  are described in some detail where the official website for IRCC states,
Others who may help you apply
Some people may help you with other parts of the application process. These people do not need to act as your representative or access your personal information.
For example, someone may help you:
use this website to find information [Emphasis Added]
access a computer, scanner or printer
navigate our e-services
view and use electronic forms or to download/upload documents
get your documents translated
make travel plans or
choose and register in courses to study in Canada
The above bullet points when read together  summarize most of  the tasks an unlicenced advisor carries out when  giving advice to someone about Canadian immigration.   The phrase, "use this website to find information" begs the question: to find information about what?  And For what purpose?  The only reason  one would check the CIC website for anything other than to obtain information citizenship or immigration matters would be to obtain advice and guidance about Canada's immigration programs.
Taken as a whole the above section of the CIC website constitute an invitation to be either self-victimized by self-filing a complex visa application, or an invitation to be victimized by  an unlicensed consultant who is advising applicants apparently for free.  Such unlicensed individuals typically suffer no consequences for providing improper advice.