Claiming Refugee Protection from the Canada-US border
By Author: Admin | April 9, 2017
Are you contemplating claiming Refugee Protection from the Canada-USA border?
Since the November 2016 election in the United States of America (USA) we have seen an increase of calls from people in the United States who wish to claim Refugee Protection also known as seeking Asylum by crossing the Canada-USA border. Although, it is possible to claim protection from within Canada, the Safe Third Country Agreement might prevent these claimants from entering the country and to be able to claim Refugee Protection.
What is the Safe third country agreement?
This Agreement is between the government of Canada and the United States and came into force in 2004, under the agreement, refugee and asylum seekers are required to claim protection in the first safe country they arrive in, unless one of the exemptions of the Agreement applies to them. This Agreement does not apply to US citizens as well as habitual residents of the US who are stateless (citizens of no country).
The Agreement applies to claimants who are coming to Canada from the US by using the land border crossing, train and airport. In the case of airports it only applies if the person seeking refugee protection in Canada has been refused refugee status in the U.S. and is in transit through Canada after being deported from the U.S.
What are the exceptions?
There are four exceptions:
You have a family member in Canada, The Family member exception
Minor's who are alone, Unaccompanied minors exception
Canadian travel document holder, Document holder exceptions
Public Interest exceptions
1. The Family Member Exception
This Exception applies if the Refugee claimant has a family member in Canada who is either a permanent resident of Canada, a Canadian Citizen of Canada, a protected person in Canada, has made a claim for refugee status in Canada that has been referred to the IRB, has had his or her removal order stayed on humanitarian and compassionate grounds, holds a valid Canadian work permit or holds a valid Canadian study permit.
A Family member is defined in the Agreement as a spouse, legal guardian, child, father or mother, sister or brother, grandfather or grandmother, grandchild, uncle or aunt, nephew or niece, common-law partner, same-sex spouse.
If you have a family member as defined by the Agreement and has one of the statuses mentioned above, the exception could apply to your case.
2. Unaccompanied Minors Exception
Children under 18 who are unaccompanied by their legal guardians including mother or father, are not married or in a common-law relationship and who do not have a legal guardian in Canada or the United States may qualify under this category.
3. Travel Document Holder Exception
A person who hold a valid Canadian visa (other than a transit visa), a valid work permit, a study permit, a travel document (for permanent residents or refugees) or other valid admission document issued by Canada, or who are not required (exempt) to get a temporary resident visa to enter Canada but require a U.S.–issued visa to enter the U.S may qualify under this category and could have a claim for refugee protection.
4. Public Interest Exception
If a person has been charged with or convicted of an offence that could subject them to the death penalty in the U.S. or in a third country. However, the person is ineligible if he or she has been found inadmissible in Canada on the grounds of security, for violating human or international rights, or for serious criminality, or if the Minister finds the person to be a danger to the public.
Conclusion
Even if a person qualifies for one of these exceptions of the Safe Third Country Agreement, refugee claimants must still meet all other eligibility criteria of Canada's immigration Law and Regulations such as inadmissibility.
For more information about Refugee Claims and the Canada-Us Safe Third country Agreement visit Citizenship and Immigration Canada's website.
If you need assistance or more information call the Chaudhary Law Office for a consultation.
Thank you to our Followers
The Chaudhary Law Office's Blog was selected by Feedspot as one of the Top 60 Immigration Blogs on the web.
​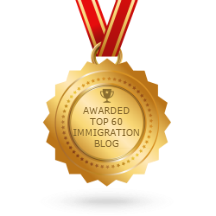 We thank Feedspot and our followers for having nominated us.